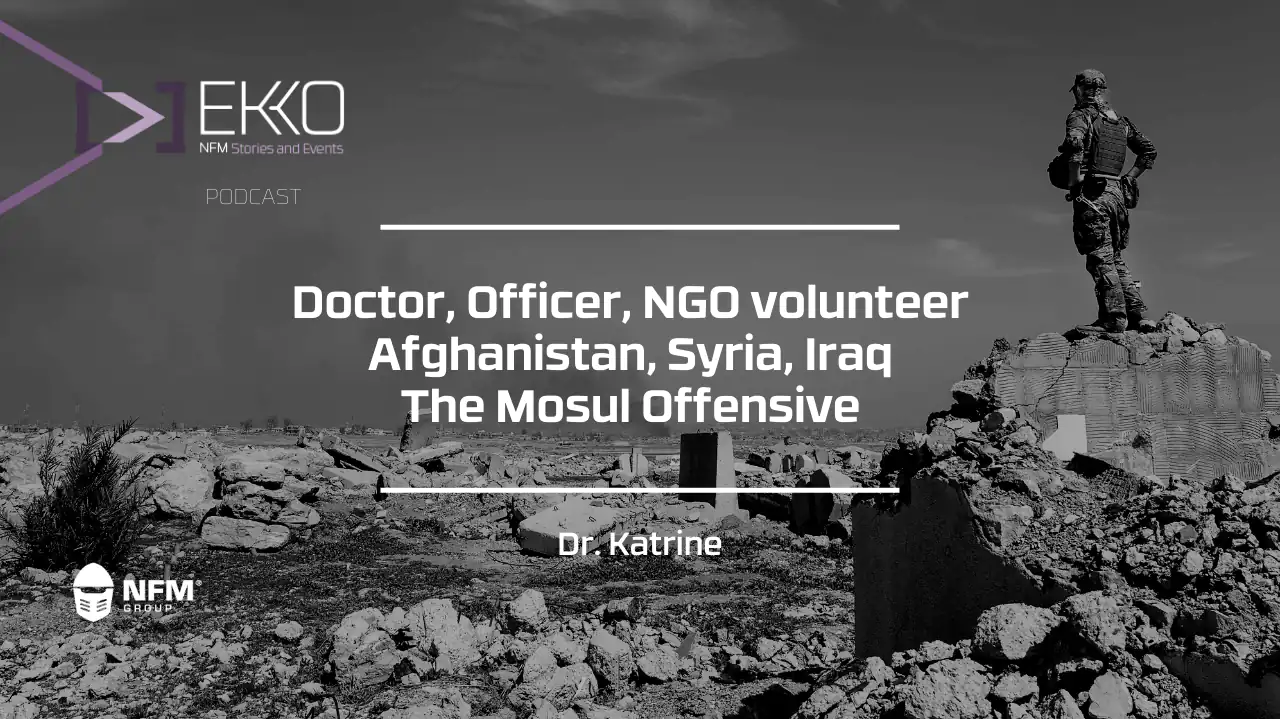 12 Apr

Dr. Katrine – Doctor, Officer, NGO volunteer. Mosul Offensive

Norway has countless warriors that have deployed overseas but there aren't too many people outside of Norway that have heard about them. There are also Police personnel, press photographers and others that have experienced situations that warrant a story, a conversation or a podcast. 

So, we would like to bring these people to you, via our NFM EKKO Podcast. 

Yes there are some Norwegian podcasts out there which is important and great for fellow Norwegians to listen to – but its time to get these modern day Vikings recognised on an international level. 

In light of this, a location for a Podcast studio was eventually confirmed to be built at the Norsegear building in the middle of Oslo. Norsegear is a B2C division of NFM where the civilan market can purchase tactical and sporting equipment. 

Inside the building is an old mini theatre which has now been converted into a studio. There are continual challenges with acoustics in the room and it is a work in progress, but we are very pleased with the results so far. 

We have spoken to a number of people with extremely interesting backgrounds that would like to take part in the Podcast. Most need to check with their old units to make sure that it is ok and others have been interviewed before. 

So there is a good mix and our first guest is Doctor Katrine Jakobsen. She has deployed over eight times to various regions around the world including Iraq, Syria, Afghanistan and Mali both as a volunteer NGO and in the Norwegian military. 

Her experience is so vast, that the Podcast goes for around two and a half hours! However, this is full of interesting stories and events especially when talking about the Mosul offensive where the host, Adam Read, was also there embedded with Katrine and other Norwegian volunteer medical personnel. Pictures and videos from that time are added to the podcast video to give the viewer a better understanding of the events taking place. 

Please note that this podcast does focus a lot on war and some viewers might find the footage and conversation disturbing. You will be viewing two people that shared these experiences together and occasionally profanity is used, not with intent, but out of emotion – re-living the experience together. 

We hope you enjoy it.

Receive updates for free!