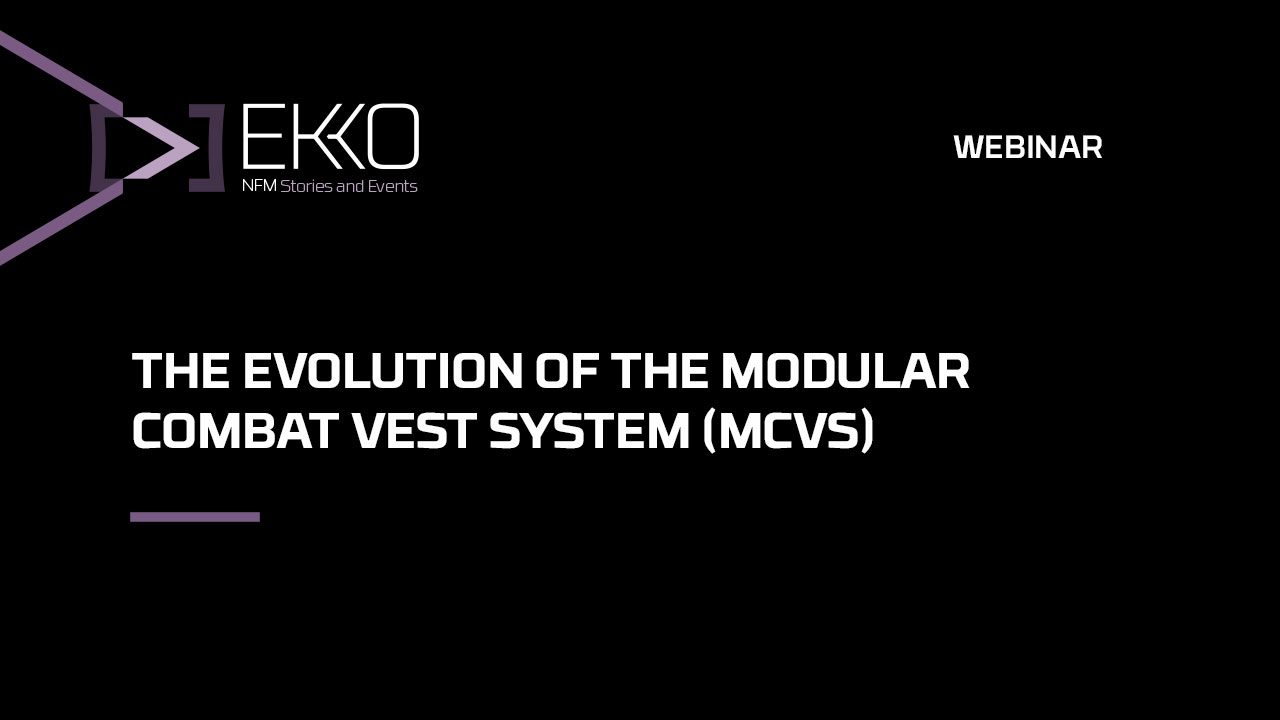 12 Apr

The evolution of the Modular Combat Vest System
WATCH A WEBINAR RECORDING
Throughout recorded history, armour has been used in battle and there has been many different variations of bearing systems to carry this armour. From leather straps in the Viking era to the first plate carrier invented in 1967 – the combat vest system is continually evolving.
Thankfully, modern composites used today are always getting lighter, resulting in more flexibility and agility for the end user.
In our second webinar in the EKKO series, we were focused on the MCVS and our THOR range of ballistic carrying solutions.
Watch full webinar recording
Register and receive link to webinar for free!
Our panel consists of Tor Inge Thun who is a Commander in the Norwegian Armed Forces with 25 years' experience. He is a Project Manager for the Norwegian Defence Material Agency (NDMA), Land Division.
Joining him will be Jan Ahlberg, our MCVS System Manager in R&D who spent 10 years in the French Foreign Legion.
Lastly, Sergei Moore who is our User Interface Manager will be joining us. Sergei is a former Special Forces (SOF) Command Master Chief in the Norwegian Armed Forces, and he will elaborate on SoF requirements.
The Modular Combat Vest System webinar is hosted by Adam Read who is the Digital Content Manager at NFM.
We hope that you will like this 45 minutes educational discussion, that we recorded for you.
What is each soldier being issued?
The soldier will be issued a vest system based on their unit basic/main mission.
What is the heaviest & std configuration so far?
Weight and protection level for the Norwegian Armed forces is classified.
Or how many missions' unit profiles have been developed?
This is depended on each unit in each country.
What is the expected life cycle of the system?
Meaning when will begin to replace this system or come up with another variant? Depends on client requirements. It's different for textiles and for the ballistics when it comes to warranty. It depends as well on the mission and on the contract with the client. We can always adjust the material when needed for longer life cycle.
Is NFM contracted to provide future technical investigation and engineering support? Say a new requirement comes up for a pouch how do you get it into service?
Clients provide us with a new requirement on which basis our R&D studio will commence development. The contract will be updated with a new product.
How much the kevlar layer used in vest?
How much kevlar is used in the system depends on what level of protection you require. Today most systems soft ballistics are made up with a combination of kelvar and other protective materials. The choice of materials is also a matter of cost and how soft and flexible you want the protection to be.
What are the seams used in vest arm holes?
There is a concealable flat seam.
Does the plate carrier lead to low mobility?
No, plate carrier has been designed especially for high speed operation.
How far off is the current Load-carrying MCV from being completely powered to offer multiple capabilities and from being self-powered ie. kinetic recharge?
Kinetic recharge: The Norwegian acquisition has not had any requirements for kinetic recharge within this system. We have discussed and see that the system is able to facilitate new solutions for power-and signal paths, removing the need for cabling i.e between a battery and radio. However, this would be the next evolution of the system.
Question, when will this be available for purchase and approx. costs.
The textile MCVS is available now for sales – price list will be available upon request from a client.
I am curious regarding the webbings or components that you use in the mixture of the laminate?
All accessories are chosen by our material engineers so we can create the perfect system.
What does the panel material consist of?
We cannot discuss those details.
Does it get wet?
How do you handle the fire retardancy aspect?
The Raw Materials are FR.
Do you have any specific test standards used to compare flexibility and or comfort compared to other designs?
Comfort: There are no standardized test standards to test flexibility and comfort. Feedback from the end-users are key. This allows the soldiers to try the system fully as part of the evaluation of the system.
Sustainability: Sustainability is key to allow for an effective logistic handling and longevity of the MCVS. Since it is modular, it allows you to change or repair modules of the vest, instead of replacing a full vest is ie a zipper is broken, or a molle-row has come loose.
The MCVS facilitates a much better possibility to adjust according to your body type whether you are female or male even within a smaller range of sizes. The cummerbund can be delivered with two lengths to accommodate smaller sizes. It is important that the system sits good and fits on the body to offer maximum protection. A more flexible soft armour allows people with large chest (male and female) to feel more comfortable.
What ballistic threat/standard do your yoke and belts meet?
Ballistic threat/standard Belt: Same as for torso. The level is classified information for the Norwegian armed forces. Technically you can define what level protection you want and distinguish between protection level for the torso and lower abdomens if that is your need.
Yoke has no ballistic protection as it is intended for comfort support – to spread the weight carried by soldier.
There are also neck and shoulder ballistic protection which has the same protection level as the whole system.
How do you avoid sagging and shifting of the load bearing panel? (The GRID panel)
Everything is firm. The plate carrier has no room to move. The inside is tightened and designed accordingly to the size of the plate.
The GRID panel is firmly attached to the vest by tubes and Velcro.
Can i ask how many different plates there are made for the Thor chest rig?
Within the MCVS there is no chest rig.
Is it possible to integrate the buoyancy support system?
Yes, this is possible – both as insert pockets attached to the cummerbunds, ie PECI buoyancy, or on the belt, or as an independent inflatable buoyancy collar.
However, it also depends on the buoyancy attachment system – MCVS can be tailored accordingly to client needs.
Is sustainability / recycling of the vest also one of the requirements? Does sustainability play a role?
Our equipment is made with the best possible materials and yes sustainability is carefully taken into consideration.
Is the system adjustable for female body mechanics or men with longer backs?
Is there a timeline for the system being issued to regular armed forces units?
Given that the bulk of the users in the Norwegian Armed Forces are conscripts operating in an arctic climate how is this vest the optimal choice for them?
Arctic Climate: The situation where soldiers operate in an arctic climate is a prerequisite for the system. The main question is what the soldier requires to function most efficiently, and that answer can be both complicated and non-complicated. The MCVS is chosen based on several requirements, where operating in the arctic climate is a basic requirement.
Can you tell a little bit about body armor systems recently purchased by Lithuanian Armed forces?
The systems we deliver meet the technical specifications published in the project and unfortunately, we cannot reveal more details.
What is the time frame for orders?
The production lead time is calculated based on resources and raw materials on hand at the time of the order.
Will this system be available for the public for purchase in Norway? And if/when will it be available?
PROJECT MANAGER FOR THE NORWEGIAN DEFENCE MATERIAL AGENCY (NDMA), LAND DIVISION.
Tor is a Commander in the Norwegian Armed Forces with 25 years' experience ranging from Coastal Ranger Command, Project Officer in Navy Special Operations to his current position as a project manager for combat vest systems.
SYSTEM MANAGER – NFM GROUP
Jan has a wealth of experience in the defence industry including ten years in the French Foreign Legion as a Reconnaissance Patrol Commander with many overseas deployments. As a system manager he has taken part in the conceptual vision and development to supply and evolution of combat vest systems.
Subscribe to the NFM Group Newsletter today and unlock a world of knowledge. Join our community of forward-thinking professionals. Sign up now and get to know more about NFM Group!
To subscribe, simply click SUBSCRIBE NOW button, and fill out the subscription form on our newsletter page.
SUBSCRIBE NOW
Subscribe to the NFM Group newsletter today and unlock a world of knowledge. Join our community of forward-thinking professionals. Sign up now and get to know more about NFM Group!
To subscribe, simply click SUBSCRIBE NOW button, and fill out the subscription form on our newsletter page.